Review: Briggs & Riley Baseline 20" Exp. Wide Body– Smart Choice for Light Travellers
Feb 22, 10, 9:09 am
Join Date: Feb 2010
Posts: 8
Review: Briggs & Riley Baseline 20" Exp. Wide Body– Smart Choice for Light Travellers
---
I'm a newbie to Flyer Talk. I have been lurking around for a while and I find the discussions on Cpi-Web interesting and intense. I recently changed my carry-on Luggage from Samsonite 22" to Briggs & Riley 20". The discussions on Flyer Talk, specially the reviews and comments by tfar, Gadgetfreak, aktchi and others played a major role in my decision.
Now that I have done 2 – (3 day) Europe trips with my BR I thought I could best contribute to this forum by sharing my views.
Here's my story:
I walked in at work post holidays, earlier this year, to news that more travel awaited me this quarter and this time to Europe. Even as I wondered how best to explain this to the missus, I realized I needed new luggage.
I owned a Samsonite 22" (that had served me 3 years, 50,000 miles and innumerable Amtrak and Road trips). However, the last few times I had traveled with my Samsonite 22" carry-on had been nothing short of traumatic. I was asked to check in my bag and even if I managed to convince my way through to the aircraft, I faced some embarrassing moments trying to fit the bag in the overhead bin. From whatever I had read and heard, European standards for carry-on baggage were even stingier than American.
I knew this time I had to go for something smaller and classier. After debating between a 20" and an 18", I settled for the former as the latter seemed a little too compact for international travel. After reading through the discussions on Flyer Talk I zeroed in on
Briggs and Riley Baseline 20" Expandable Wide Body
,
Tumi Alpha Continental 20" Carry-on
and
Victorinox Mobilizer NXT 4.0 20" Wheeled Carry-on
. I went to the local store to see the 3 bags in person.
Here's why I preferred BR over the other 2:
Packing Comfort
Briggs and Riley Baseline 20" Expandable Wide Body
: The first thing that struck me about the bag was what they call the "Outsider handle system." The telescopic handle is provided on the bag's exterior leaving a flat packing surface inside to keep clothes
wrinkle-free
. The bag also comes with multiple pockets – a mesh pocket for toiletries, a lid pocket for delicates or tees, an outsider pocket for quick access items, and a SpeedThru pocket.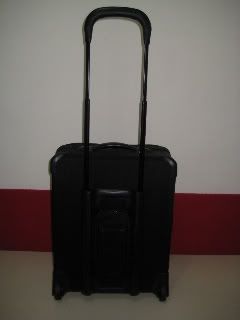 Tumi Alpha Continental 20" Carry-on
: The interior of this bag had one big main compartment, while two flat zippered pockets were provided on the exterior. From my experience, I know there is only so much you can put in the exterior pockets. I felt the bag offered a little less than Briggs and Riley in terms of organization.
Victorinox Mobilizer NXT 4.0 20" Wheeled Carry-on
: This one did have one mesh pocket that could be used for storing multiple things like tees or sleepwear. It also had two front pockets for quick access items and travel documents. The bag looked ordinary at best. Plus, their garment securing panels didn't compare favorably to the panels provided by Tumi and Briggs & Riley.

Garment Sleeve
Briggs and Riley
: The bag had a tri-fold built-in garment sleeve that looked good enough to hold at least two suits. I knew this feature would come in handy since the "one carry-on per traveler" rule means I cannot carry a separate garment cover to hold my suits. The garment panel was foam-centered to prevent wrinkling – another thumbs up for Briggs and Riley!
Tumi
: This bag came with a removable garment sleeve and a zippered tie pocket. I didn't care much about the garment sleeve being detachable, but the zippered pocket looked like a nice add-on.

Victorinox
: I was pretty surprised that the Victorinox carry-on did not have a garment sleeve. By now, I had started expecting this feature from every bag as a matter of right.

Expandability

Briggs and Riley
: The Briggs and Riley bag could be expanded by 2.5" for 24% extra space. I am a light traveler, but I would still like to have the option of some extra packing capacity if needed.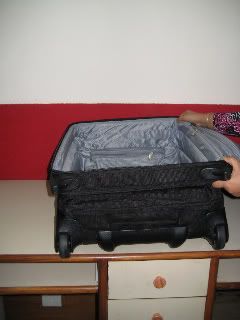 Tumi
: The main compartment of the Tumi Continental could also be expanded for up to 2.5" of extra packing capacity.
Victorinox
: Since I found expansion system to be a standard feature in most 20" carry-on suitcases, I felt almost let down that the feature was absent in this bag.
Warranty
Briggs and Riley
: This is where Briggs and Riley win the race. Their "Simple as that" lifetime warranty (
http://briggs-riley.com/simple-a...time-warranty/
) is simply the best in the industry. It covers repair of all damage – including the damage caused by airlines – for life.
Tumi
: I was aware of Tumi's withdrawal of their lifetime warranty. I just wasn't sure what they had replaced it with. I was shocked to find out that it was a five-year warranty (
http://intl.tumi.com/about/warranty-detail/
) with coverage for airline damage only in the first year.
Victorinox
: They offered what they call "Carry with Confidence" guarantee (
http://swissarmy.com/CustomerSer...istration.aspx
) on this bag, which covers functional repairs for damage caused by airlines among other things. They offer lifetime warranty on certain collections like Tallux.
Price
Briggs and Riley
: $369.00
Tumi
: $595.00
Victorinox
: $369.99 (After 30% discount)
Value for Money
Briggs and Riley
: A resounding yes – with features like wrinkle-free packing, built-in garment sleeve, SmartLink system to attach one or more bags to another rolling bag, zippered expansion system, a ballistic nylon exterior, and a lifetime warranty, I had nothing to complain about.
Tumi
: Unsure - I wasn't sure what I would be paying extra for if I bought Tumi. Briggs and Riley certainly had more features, offered a lot more in terms of organization and packing comfort, and definitely outscored it in terms of warranty.
Victorinox
: Not really – even after a 30 percent discount, this bag was too pricey for what it offered.
Feb 22, 10, 11:59 am
Join Date: Jan 2009
Location: Berlin and Buggenhagen, Germany
Posts: 3,509
Louiswatson, a warm welcome to FT!
What a great way to start your "career" here. The BR widebody is one of the most researched bags here. So your review is very valuable.
From what I read it is a very nice bag indeed. The only thing that bugs me with BR, and I've said so before, is the ousider handle system. For bigger bags it's a non-issue but for smaller bags I find it counter-productive. It takes up too much space on the inside and you have to downsize the entire case so that it still fits the required dimensions. A flat packing surface can easily be created by filling the space between the poles with soft items like t-shirts, socks or underwear. That space is also a very good place for chocolate (if you happen to travel to Switzerland
). Moreover it makes a magazine slip pocket on the outside back panel impossible. I find this pocket extremely useful on a carry-on and wouldn't be without it.
For that reason alone, personally, I would not go with a carry-on size BR rolling bag. A big bag, right away. A shoulder carry bag, no question. Just not a small roller.
For Europe duty the weight of almost any rolling bag is a problem because of their super strict regulations; on non-US airlines. But then again on European airlines checking a bag is free generally and the BR will survive that ordeal easily.
As far as the suiter goes, you may see that you don't really need it. Unfortunately one can zip off only one panel of the suiter so one might as well use it. I prefer a separate suit compartment with a three panel suiter that is completely independent of the bag.
However, all those are very picky personal concerns, and I am happy to hear you do like the bag.
One thing that would be super useful, Andrew did it for the Plat5, is to start a list of airplanes where it fits and doesn't fit in the overhead. E.g. does it fit in an MD-80, short side or long side? How about a 737? Or a small Airbus? I bet it does but it would be great to have a list.
Yesterday I was almost surprised myself to be able to fit a very well packed Plat5 into the long side, wheels first, of an MD-80. I had to use some bag English but it did fit. Nothing more embarrassing than having to give up on stowing your bag while the plane is still boarding.
Till
Feb 23, 10, 8:18 am
Join Date: May 2006
Location: Canada
Programs: AA LT Platinum, AX Cent so...Delta Plat, SPG Gold, etc..
Posts: 503
I too long considered the BR 20' models. The outside handle system is such a waste of precious space that I simply couldn't bring myself to do it. The lost space could have been used for all of my socks and underwear plus toiletries (if packed tight and compacted).

As for expandability that is a non-starter for me. If I expand a bag that means I have to check it - no way Jose. Why bother carrying around the extra weight of an expander when I can't possibly use it...

I am still with a Vitx Werks 2.0 20', bought a second one on eBay last week as backup since they don't make that bag any longer. I haven't been able to find a wheeled 20' bag that surpasses it in sheer volume.
Feb 23, 10, 9:36 am
Join Date: May 2007
Location: ORD
Programs: AA (current EXP, occasional PLT, 0MM); UA; DL
Posts: 6,003


There is an understandable difference of opinion on those issues where subjective choice is involved. For example I am a deliberate light packer and my preferences reflect that: I value the flat packing surface more than a little extra space. When I look at the large outside pockets found on other brands, I only see the increased risk for the bag to get caught somewhere; instead I prefer BR's clean lines and surfaces. I don't need expandability. In a carry on, I don't need wheels either.

I fully understand that others feel differently and with very good reasons. For example, my wife likes wheeled carry-on, so we have and often travel with both kinds.
Feb 23, 10, 10:29 am
Cpi-Web Evangelist
Join Date: Apr 2001
Location: DCA
Programs: AMC MovieWatcher, Giant BonusCard, Petco PALS Card, Silver Diner Blue Plate Club
Posts: 22,215
Outstanding first post and review
I took this bag -- and only this bag (+ laptop bag) -- with me on the following trips in the past three months worth noting (most of my travels are 1-3 nights)
* Thanksgiving in Paris, so lots of sweaters and jacket, 4 nights
* Christmas with the in-laws in Eastern Washington State, very cold lots of snow on the ground, 5 nights
* New Years in the Bahamas, so packing much lighter, 6 nights
I haven't suffered lack of room at all.
Feb 24, 10, 9:02 am
Join Date: Feb 2010
Posts: 8
Thanks for the warm welcome and the tremendous response to my review, guys. As correctly pointed out by Aktchi, certain things are a matter of personal choice. For me, the convenience of flat packing surface, the flexibility of expansion, and the comfort of a lifetime warranty offered by the Briggs and Riley bag were solid reasons to buy it. I was also completely floored by the simple elegance of the bag!
Mar 10, 10, 10:01 am
Join Date: Jul 2003
Location: SFO
Programs: 1.1MM; UA Plat
Posts: 366
awesome review, thanks for sharing.
I do have a follow-up question.
Did you have any issues with the size of the bag in Europe, as another FT thread had a similar bad, BR20" and was asked to check his, as the outer handle system was made the size larger than the 9" requirements (Canada to US).
Briggs & Riley Carry-on's and Revised Carry-on Baggage Allowance into US
http://cpi-web.ru/forum/trave...e-into-us.html
Mar 11, 10, 3:39 pm
Join Date: Jul 2008
Posts: 43
Thanks for the review - you made up my mind!
---
I already own the Tumi Alpha Continental 20" widebody in yellow ballistic. It makes it look HUGE and I get grief everytime I take it on an international flight.

Your review made up my mind. I had been eyeing the Briggs & Riley widebody bag for a while now. I picked it up last night in the chocolate color and used it for a trip today to the Dominican Republic.

This bag is brilliant and everything fit! My packing list:

The suiter compartment held:
1 Suit Jacket (44 Regular)
3 Dress Shirts & 1 Guayabera (in the suiter as well as the suit jacket)

The Main Compartment got:
1 pair Dress Pants
1 pair Suit Pants
1 pair Linen Shorts
1 pair Dress Shoes (3 pair socks and 2 pair underwear in them)
1 pair flip flops
1 Eagle Creek Cube with:
2 Cotton tshirts
1 muscle shirt
2 swimsuits
1 fabric belt
2 pairs underwear
Charger for my camera

The rear pocket between the handle got my Apple Airport Express router and my iPhone charger USB cable.

There was room to spare!

There was not even a second glance at it from anyone during check-in. It also holds a good bit more than my Rimowa Salsa Deluxe 2-wheel cabin trolley too.

I may be getting the black one too...

Till, I thought I would be trying out the Andiamo Valoroso VD25 on this trip but I am happy I had wheels as I had to walk nearly 2 miles for a last minute gate change!
Mar 11, 10, 8:30 pm
Join Date: Jan 2008
Location: IAH
Programs: UA Platinum, AA, HH Silver, MR Platinum
Posts: 140
I'll chime in here, as I've been using the B&R 20" Widebody recently. It worked fine for two nights in Los Angeles and (separately) four nights in Lima. It'll probably seem even roomier once I gain proficiency in some of the packing techniques I've seen mentioned on this forum.

As for its utility as a carryon, it fit easily in the overhead compartments of a 738, 757 and 763 (all on AA in F or C), but I couldn't make it work in Y on a UA 763. (Fortunately, there was closet space available.)

I also used it as one of our checked bags for a family trip to the Caribbean last month. By the way, does anyone know the best way to remove caked-on infant formula from the inside of a suitcase? Just curious.
Mar 11, 10, 9:48 pm
Join Date: Jan 2009
Location: Berlin and Buggenhagen, Germany
Posts: 3,509
jdlnmia, sorry to not get your trip report on the VD25 but still glad to see you found a nice BR widebody.
What you say about the color is not surprising after all but I admit never to have thought about it. Darker colors seem more compact. Inversely, and strangely, rooms in darker colors seem bigger (unless they are black) as professional interior designers can tell you.
I had thought about getting one of the Tumis that they offer in orange now. I LOVE orange but you just saved me some money there. Thanks!
If I can allow me to give you an unsolicited packing tip, wrap the belt around the perimeter of your suitcase once everything is packed. It will take less room this way compared to rolling it up on itself.
Baritone, use a brush and warm water for the formula. Clean up afterwards with a cotton towel. If there is any smell left, use a little vinegar. Should be a five minute operation tops.
Till
Mar 12, 10, 8:39 am
Join Date: Feb 2010
Posts: 8
Jdlnmia, congratulations on your new BR and nice to know my review helped you decide. You've shared some great details and I am sure they'll help others considering Briggs and Riley bags.
Mar 12, 10, 3:17 pm
Join Date: Jan 2007
Programs: 1MM
Posts: 147
Okay so the 20' exp widebody doesn't fit on a UA 763? I frequently fly in that aircraft and I was considering buying this bag. Anyone else experience the same? What other planes does this bag not fit into?
Mar 14, 10, 2:34 pm
Join Date: Nov 2004
Location: Oakland
Programs: AA Explat, UA former 1K + PremExec, DL
Posts: 1,064
International carry-on grief... which dimensions are most restrictive?
---
Louiswatson, thanks for the informative review as well as everyone's informative comments. I gather the 20x8" dimensions are no problem for international, but have wondered about the wide dimension... but based on a couple comments here I guess it has not been an issue. What about Heathrow?

I'll also add to the requests for more info on the 763... completely unable to fit in either orientation?

Took a loook at this bag the other day at DEN... looks pretty nice.
Mar 14, 10, 6:04 pm
Join Date: Jan 2009
Location: Berlin and Buggenhagen, Germany
Posts: 3,509
I think we said in the other thread that the smallest dimension was 8" depth. Both length and width allowances will be a bit longer in this case because the smallest maximum I've seen was still 45 l.i..

Thus if you go with a bag that is not more than 20" long, 14" wide and 8" deep it will fit all regulations and all sizers. BUT it won't be the maximum 45 l.i. anymore. You lose about 540 cubic inches compared to the US domestic standard of 22x14x9. The bags said to be of that size are in reality often bigger, though. 540 ci is a space 10x10x5.4 inches. So that's some good packing space there. I'd say the volume of two khaki pants or so.

Still if you know how to pack, not a problem.

Till
Mar 14, 10, 7:03 pm
Cpi-Web Evangelist
Join Date: Apr 2001
Location: DCA
Programs: AMC MovieWatcher, Giant BonusCard, Petco PALS Card, Silver Diner Blue Plate Club
Posts: 22,215
Posting Rules
You may not post new threads
You may not post replies
You may not post attachments
You may not edit your posts
---
HTML code is Off
---